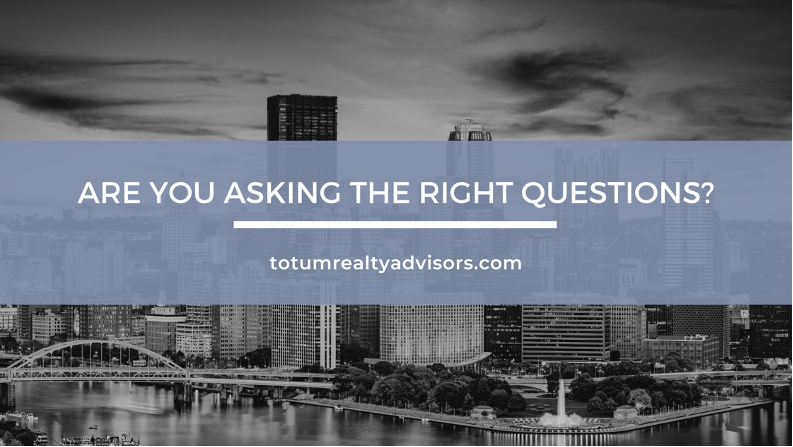 They say knowledge is power and this is especially true when it comes to making a real estate transaction.
The process begins with asking the right, pointed questions to get the answers you need to make better decisions for your business.
But, if you do not know what to ask, what do you do?
You lean on the experience of trusted advisors.
Our team at Totum Realty Advisors has over 45 years of combined experience and over the past four decades and counting, we have seen ebbs and flows in the market.
From these experiences comes the awareness that every change is accompanied with fresh opportunity.
As the mindset, needs, and strategies surrounding commercial real estate continue to change in Pittsburgh and everywhere around the country for that matter, we're ready to help our clients take advantage of it, regardless of where they're at in a current lease cycle.
If you find yourself in a similar situation where you do not know where to go or what or what steps to take next, we have put together a list of questions to ask yourself to weigh your options:
Has my current operation been affected or disrupted?
Does my space commitment represent an asset, or a liability based on our current usage?
What changes will/should my landlord be making in the operations of my building?
What are the potential benefits and disadvantages of those changes for my employee's experience?
What cost impact will COVID-19 protocols present and how will they be passed on to the tenants?
Have I read every page of our lease?
Property valuations are sure to change, do I have exposure or opportunities and how much?
Am I protected from the landlord using operating expenses as a profit center?
How will my day-to-day experience in the building change?
How does my annual cost relate to "market"?
Am I paying the right rent for my space?
Is my real estate making my company more successful and/or more valuable?
When do I have the most leverage in a real estate negotiation?
How do I use leverage to my advantage in a real estate negotiation?
I have multiple locations, is there a way to have a single point of contact on all fronts?
Though these are just some of the questions you should ask, they are a good starting point to get you thinking about the course of action you should take with your commercial real estate properties.
Interested in Learning More?
If you are interested in finding the right solutions for today, tomorrow, and beyond, or have any questions, contact us today to speak with one of our advisors.